Winter has arrived. Time to get your skin winter ready. As the weather changes so too should your skin regime.  My own skin tends to be very dry at this time of the year. Here are a few face and body creams I would recommend to help keep your skin moist and healthy through those winter months.
Aveeno – Formulated with naturally active colloidal oatmeal, this fast absorbing lotion is clinically proven to improve the condition of the skin in just two weeks. The cream is fragrance free.   It has a lovely texture and I have to say I found the results to be instant.   It leaves your skin smooth and soft. I always apply Aveeno after the shower.
Shea Butter-  Shea butter has so many benefits for the skin. It is an all-natural vitamin A cream and is a fantastic moisturizer. It also has exceptional healing properties such as the treatment of eczema, blemishes and dermatitis. I do love the Body Shop Body Butter.
Almond oil- (my favourite beauty secret I just have to share)- it covers all areas-from moisturising to anti aging, removing makeup and as a hand cream. This multi tasking product is a must have in your winter beauty bag. Some of the benefits of Almond oil are the following- it Improves skin complexion and retains the glow.
It moisturizes deeper. It nourishes the skin making it very soft and smooth. It can soothe skin irritation and skin inflammation.  It relieves dry and irritated skin- it is also great for Eczema and Psoriasis.
It delays signs of ageing-Almond oil is excellent in reversing and preventing signs of ageing by renewing skin cells and invigorating the skin. You can get younger, fresher and more radiant skin by applying almond oil regularly.     (Who doesn't want that!!)?
It can help get rid of dark circles- If you are looking for a natural solution to get rid of dark under eye circles, almond oil is most suitable. Simply apply the oil before going to bed and allow it to work while you sleep. For optimum results, follow this beauty regimen regularly for at least a couple of weeks. This treatment will also help reduce dark eyelids and crow's feet.
Almond oil is available to buy in many health food shops. I use Almond oil on my face and body
Dermalogica Barrier Repair. 
 (Always a reliable brand) This waterless moisturiser has been created with the sole purpose of protecting the skin's barrier, which harsh winter conditions compromise, leaving skin dehydrated and sensitised. Using the brand's own Ultra Calming Complex, this cream prevents the triggers that cause inflammation, irritation, as well as any signs of burning or itching that many of us suffer from whenever the winter season starts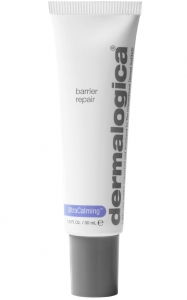 L'Oreal Paris Skin Perfection Anti-Fatigue Perk-Up Cream. (I am really looking forward to trying this ). 
Apparently a great choice if your skin tends to look tired, stressed and dull as soon as winter comes along, this balmy cream uses encapsulated pigments that create a sheer, blurring, anti-fatigue effect. L'Oreal Paris has also included perline-P, an ingredient known for its anti-redness qualities, and UV filters for protection. The emulsion that all three technologies sit within also goes someway to building your skin's barrier back up again. Use it over and under, or instead of your moisturiser.