This week Glamour Agency were given the opportunity to have a sneak preview of the latest store to set up shop in the Crescent Shopping Centre, Limerick. Selected, a Nordic brand focusing on unisex clothing that is of the highest quality and latest design, is the sixth store to open in Ireland. While we nibbled on some breakfast treats, we had a look around and saw what was on offer.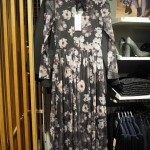 Selected really deliver on their promise of high quality; each item was incredibly soft to the touch but also had a durable quality. The atmosphere in Selected is minimalistic; the lighting dimmed in places to create the perfect ambiance and highlighted in others to show the clothes in their full glory. The tailored men's section at the rear of the store is something straight out of a Valentino lookbook. Suit jackets paired with an array of turtlenecks, sweaters and shirts complements the pristinely arranged table of jean, slacks and ties. We can already predicts throngs of young men arriving to the store pre-Debs. We were also informed that the tailored collection does not stop there and that if you don't find a suit to your liking, they have more collections that can be ordered in.
SpinSouthWest provided the music, with Eoin Fitzgerald taking up the DJ set. He also provided some comical music during the 90 seconds makeover game; where contestants were given 90 seconds to run through the store and compile an outfit up to the worth of €300. They then model their outfit of choice and it was voted on then by the crowd (who had begun queuing at about 10 am. We applaud the winner, pictured below, for her eye for style and ability to style an outfit in such a short space of time.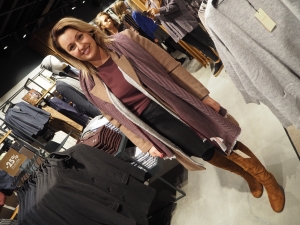 Irish blogger Louise Cooney also made an appearance, helping select contestants for the game and giving her seal of approval on some of the clothes on offer. Fortunately, we were able to snap a photo of her, wearing head to toe Selected clothing with a very cute Louis Vuitton bag.
Everyone at the pre-opening were gifted a goodie bag, packed with Selected and other branded goodies.
And with the 20% discount given on it's opening day, it felt rude not to make a few purchases of our own.
We want to extend the best of wishes to Rob and all the staff at Selected Limerick and we cannot wait to return to the store.
 Fiona x