The sun is out, summer is officially here- its time to have some fun with dressing!!  The summer dress is a must have now that the warmer weather is here. Nothing speaks more feminine than a summer dress! When it comes to summer dresses there is always such a huge selection of styles in our shops. From bright, bold colours, patterns and stripes to eye catching prints and flowing, floral designs the boutiques in Limerick have them all!! There is no better time to shop for that ultimate warm weather dress.
These charming and very feminine dresses are just two of many summer dresses that have just arrived to Carraigdonn.
How stylish is this white, pink, coral and black floral dress from Bella Sola, Newcastle West (as seen on the cover image). It will take you to any occasion this summer.
I'm loving this beautiful and fresh, pink, knitted dress by our own Limerick knitwear designer Caroline Mitchel . If your looking for the 'Wow' factor a Caroline Mitchel dress is the one for you!! Caroline's dresses are very flattering, comfortable and have amazing detail!
I spotted this colourful floral, bang on trend,  dresses from Lily Boutique, Limerick. (below left) Compliment the look with nude or pink sandals.   This very elegant  yellow patterned dress is also from Lily boutique, Limerick.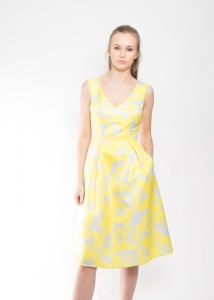 This Stella floral wrap midi dress (also available in navy) is available in Swamp stores.
Another winner on the style stakes is this figure flattering blue pattern dress from Gretta Gibbs, Limerick.
This vibrant green stunning dress by Spanish label Moskada is available from Kimono, Newcastlewest, Limerick. It has an exposed black lace back with exaggerated frill detail.
I love this floral pleated dress from Oasis.(below)
This beautiful yellow dress ( featured below) is available from Dorothy Perkins at Shaws department store, Crescent Shopping Centre, Limerick.  Ideal for a wedding or the races!
To make a real style impact pair your ultimate summer dress with your favourite trainers.   Whoever thought that pairing your favourite trainers with a summer dress would be so fashionable, but it actually really works and is so on trend! Better still your feet will love you for it!
Enjoy the brighter days ahead and enjoy shopping for that summer dress.