A Winter coat is definitely one of the biggest fashion purchases you'll make all year. The change in season and notably dip in temperature is enough evidence that winter is definitely en route. But, before you begin your search of the 'perfect' coat, consider the following-
Think about where you will be wearing it; is it for practical day-to-day wear or evening wear?
What will you be wearing underneath the coat- is there room to layer? Can you wear a jumper or a lighter suit jacket underneath for those colder days?
So, it's time to stop denying the inevitable and haul down them winter coats from the attic. Or, better again, check out our Winter picks to keep you not just warm, but also on trend.
Exquise Blue Coat
Purchase here
KIKIIE Cashmere-blend Wrap Front Coat
Purchase here
Noa Noa Spotted Wool Coat 
Purchase here
Sfizio A/W 2017 Coat 
Purchase here
Taifun Grey Coat
Purchase here
Frock Red Coat with Wide Belt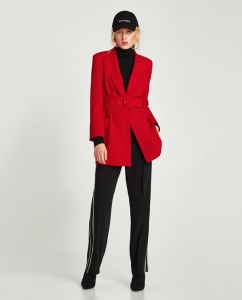 Purchase here
Don't be afraid to invest a little more and make sure your coat is of good quality.  Maybe stick to classic colours- black, navy, cream, brown or burgundy. A classic single or double-breasted coat is timeless (though some may prefer something brighter and more trendy).
Finally always remember to look after your coat so it will last. Make sure to keep the shoulders in shape by using a proper wooden hanger!
If you would like to feature on our fashion page please feel free to email me on glamourtheagency@gmail.com
Fiona x